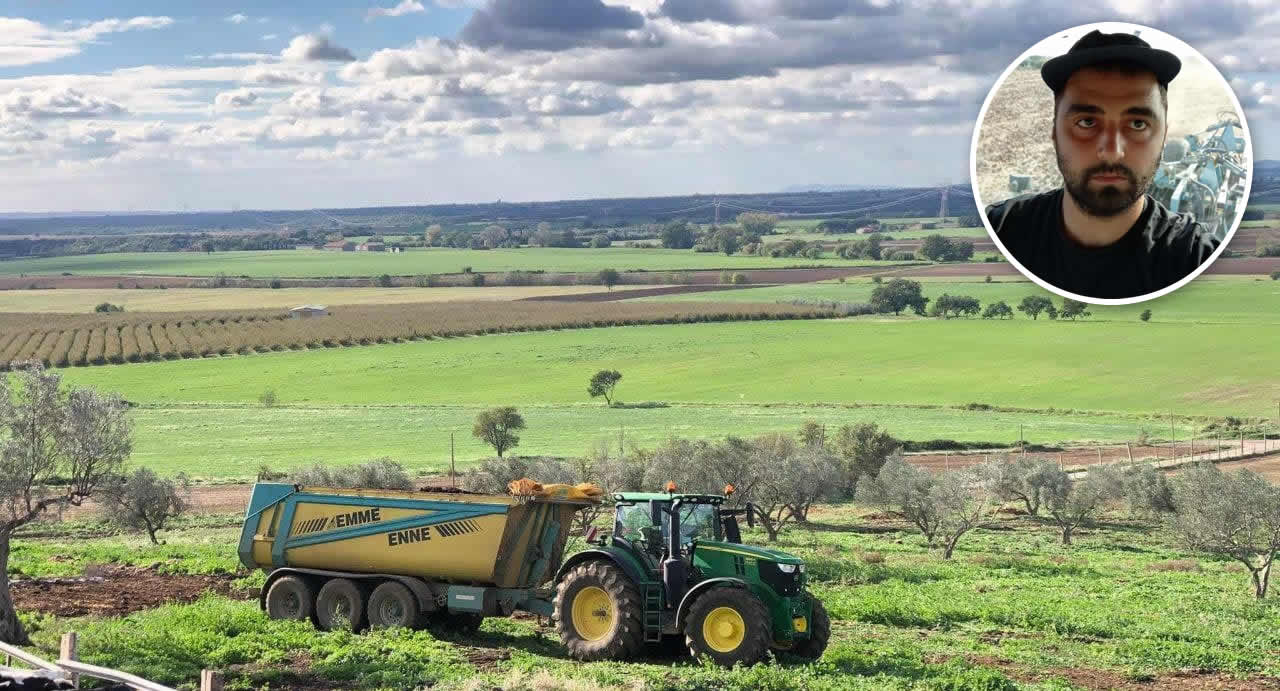 About me
My name is Dani Martelli and in the following lines, I will try to tell you more about myself.
I was born more than 3 decades ago somewhere in Italy, on the border of Tuscany and Lazio. I come from a family of farmers with a history of over 100 years of experience in agriculture.
As a child, I spent a lot of time on the farm, especially with my grandparents. My grandfather, an experienced farmer, often took me out for rides in the fields with his tractor. Ever since then, I started dreaming that when I grow up I will be a farmer like my grandfather and I will have a lot of agricultural machines around me.
Until I was a teenager, I helped a lot on the farm, learning a lot from everyone else and I developed a deep passion for agriculture. But, my mother insisted that following a university for agricultural sciences is what I should follow in life. She really wanted me to be more of an "office man" who does not get his hands dirty.
Young and naive, I said to listen to her advice, even though I felt deep down that I am a practical man who loves to work with his hands and see the final result flourish.
So, I attended a university for agricultural sciences, but throughout the course of my studies, my mind did not give me peace. My memories of my grandfather waking up early in the morning, enjoying his Italian expresso while my grandmother was preparing panini (sandwiches in Italian) for lunch, and the tractor rides in the open air and in the sun's rays kept coming back in my daily thoughts. As an agronomist, you don't really have the real action that I've always wanted. So, I think you know what I'm going to say next. After I finished the university, I returned to work on my parent's farm. You can imagine my mother's "happiness" in my decision.
Since then I have been working side by side with the other people on the farm. According to their words, I am the type of person "who does not accept it is not possible, does not rely only on the application of theory, and always finds an ingenious solution to any problem".
Although there are challenging days out on the farm, nothing compares to what I get out of it: fresh air, taking care of animals each day, amazing sunrises and sunsets, and nature's magic cycle of renewal each year.
Through agriculture and the final products of the work on the farm, I have met a lot of people, people who have been enjoying our products for years. Among them are some from the IT industry, who helped me build this website and who still give me support and advice from the online world.
Annually we produce huge crops of tomatoes, broccoli (white, yellow, purple), finochio, asparagus, cabbage, spinach, melons, melon giallo, potatoes, corn, wheat, etc. We cultivate over 250 acres of land that is privately owned, plus 400 acres as tenancy.
So, this is my virtual place where I will share what I know with you. I want to "warn" you that I have a crazy passion, especially for tractors (grandfather's fault here) and harvested combines, so among all my articles you can find an abundance of tractors.
For the most part, the articles here are written by me, but I also met other agriculture enthusiasts who wanted to share various information as well.
Photo Gallery
Contact
Feel free to reach out to me! I am always available to answer questions, share, or connect with others. But, please keep in mind that in the winter I answer your emails faster, while in the summer I can answer you within 10 days. Summertime is a season with long days of work in the field, so that's why my long response time.