Even if until recently the milking process has traditionally been done by hand, these days it can no longer be an appropriate method for medium or large farms or even small farm that wants to reduce this process to a minimum in terms of time.
Therefore, the milking machine for cows is a "must-have" piece of equipment for all farmers. This farm machinery will help any farm once and for all transform manual work into mechanized work, transforming the milking process into a much faster task for the farmer, but also for the animal.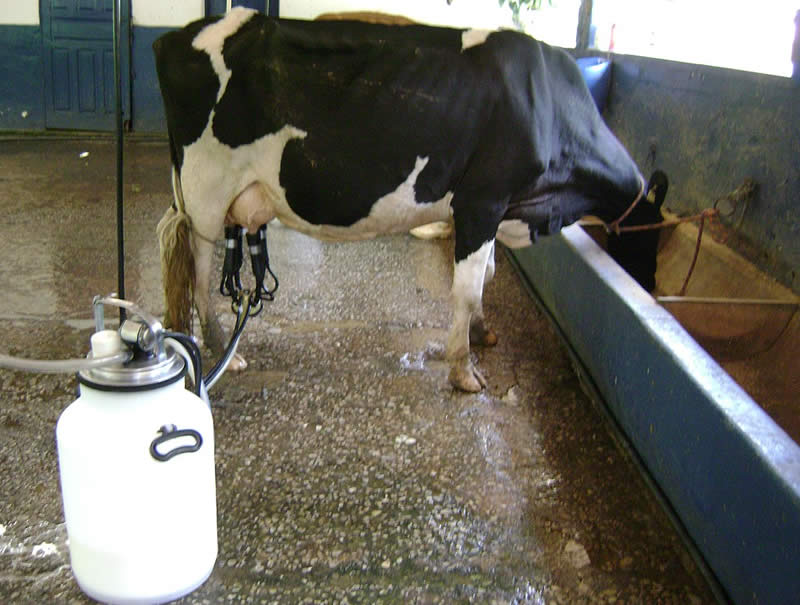 The specialized milking machine for cows will eliminate the risk of milk contamination. The milking machine is made of materials that do not allow the development of bacteria or the penetration of various particles into the freshly milked milk.
Moreover, by milking cows in a controlled, comfortable environment, milking machines ensure that the animals are not over-stressed or injured during milking.
The advantages of milking machines for cows include higher milking yields, less labor required to manage the milking process, improved animal welfare, increased work productivity, reduction of the physical effort of the milker, and better quality milk production.
Additionally, milking machines are capable of milking multiple cows at once, which can significantly speed up the milking process.
How to Use a Milking Machine for Cows
Using a milking machine for cows is an efficient and effective way to milk your cows.
But, to be sure that it gives the promised yield, you must follow certain steps in using it. The correct use of this machine will guarantee you a smooth and trouble-free milking process.
First, you have to make sure that the milking machine is properly maintained. It must be cleaned and sterilized after each use to ensure maximum hygiene.
The second step is to inspect the animal, especially its teats and nipples. The cow's teats must not be red, hit, or injured.
Before connecting the device to the cow, it is good to milk the cow by hand 4-5 times in a separate container. Thus, you will be able to identify any milk clock, water, or disease such as mastitis.
Ensure that the milking machine is connected to a suitable voltage source.
Start the machine and let it idle for a while to see if it works properly.
If everything looks good, you can connect the machine to the cow to start the milking process. Be careful that the cups are well connected to the cow's teats. When the milker cups will start to pulsate, vacuum pressure will be created inside them, and the milking process will begin.
When the milking is complete, remove the milker cups from the cow's teats and disconnect the milking machine from its power source.
After you have finished using the machine, rinse well the miler cups, teats, and udder with water. This rinse will prevent bacteria from growing.
Milking Process
No matter the method that you choose for milking your cows, there are certain rules in the milking process.
These rules influence not only the quality of the milk but also the quantity obtained, the development of the udder, and the health of the animal.
If the milking process is done correctly, then the milk will be of good quality, and a lot of milk will be extracted. However, if it is done wrong, then the quality of the milk will be low, and the animal's health and development will be poor.
Try to establish milking at fixed times. Through this fixed program, you can help establish some conditioned reflexes that will help the complete evacuation of milk.
The intervals between milkings must be as equal as possible
Always massage the cow's teats before starting the milking process.
Check if the milking was complete. Incomplete milking leads to a decrease in milk production and even to weaning.
In the first month after calving, milking 3 times a day is indicated; in the future, only cows that give more than 15 l of milk will be milked 3 times. The young cows (primiparous cows ) will be milked 3 times a day and for a longer period of time (2-3 months), even if they do not give large productions, in order to stimulate the development of the udder.
10 Recommended Milking Machines for Cows
10.

Hantop 12L Milking Machine For Cows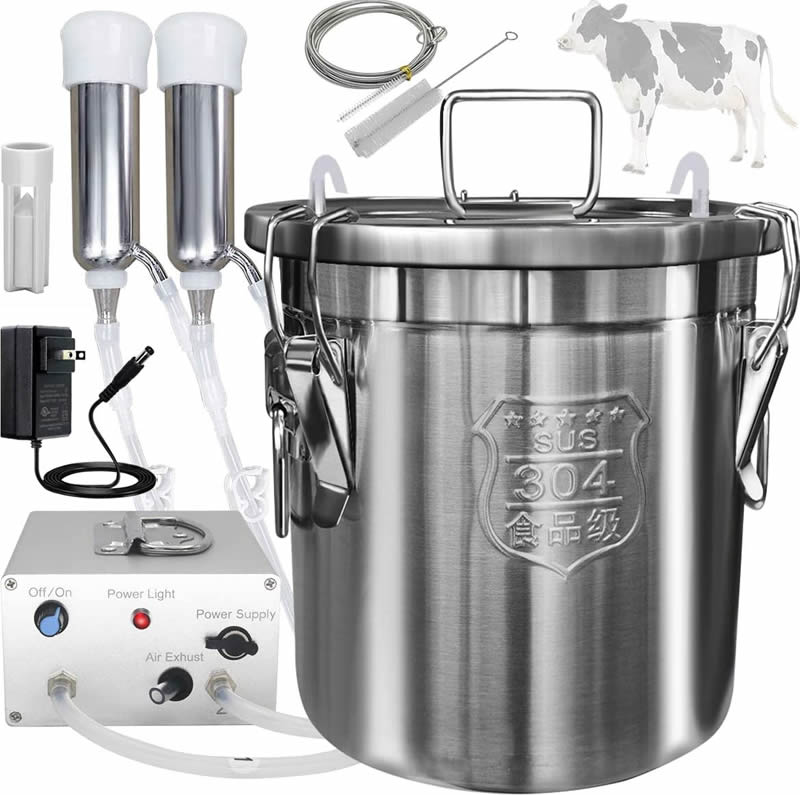 The Hantop is a durable cow-milking machine made of aluminum alloy.
With a capacity of 12 L, this cow milking machine is ideal for a small household or farm with approximately 2-3 cows. It is made of high-quality materials and is extremely easy to use thanks to its intelligent design.
All the milkers of this cow milking machine are equipped with food-grade silicone hoses, cup liners, and milk containers. Moreover, this machine has a pulsating cycle of 43 to 46 times per minute that does not affect the cow's breasts, while the check valve will prevent the risk of milk flowing when the barrel is full.
It will help you as a farmer to complete this task faster, and your cows will be calm while the machine fulfills its mission.
Pros:
The machine works exactly as described
Perfect for small farms
It has a good price
The overflow prevention valve is a nice touch
It takes around 20 seconds to install it
Comes with cleaning brushes to clean the hose and teat cup
Cons:
The Y junction for the leading hose must be larger to accommodate the higher flow rate
The pump is powerful, so you should not leave the unsupervised because it will hurt the animal
Related video – Hantop 12L Milking Machine For Cows:
---
9.

DGBAIZ – 14L Cow Milking Machine

This milking machine for cows is equipped with two teat cups made from stainless steel and an aluminum can with a capacity of 7 or 14 l. The can is provided with a check valve that blocks the milk flow when it is already full, so you do not have to worry about the loss of milk. It has a pulsation cycle of 40 to 46 times per minute and a battery that you can keep in operation from 3 to 5 hours. It is one of the ideal machines for covering the milking needs of the cattle on your farm.
Pros:
Very gentle with the animal
This milking machine for cows is not loud
It comes equipped with a brush to clean the tubes
Cons:
The pipes and some other attachments are made of plastic
---
8.

Achicklead 10L Cow Milking Machine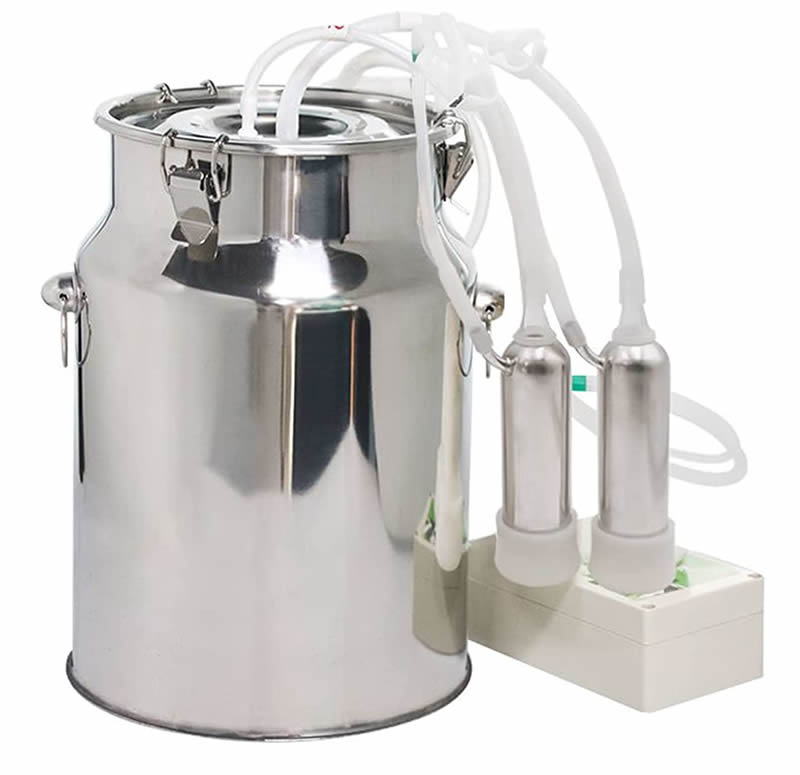 Equipped with two stainless teat cups, this cow milking machine is made of stainless steel, being durable but also easy to use.
You don't have to worry about the cleanliness of the milk because this machine has food-grade silicone tubes that increase the speed but also keep the milk hygienic, without dust and other microparticles.
Like the other milking machines for cows, this one has a check valve but also a pulse cycle of 80-160 times per minute. With a container capacity of only 10 L, it is a good choice for a small farmer.

---
7.

Hukoer 14L Cow Milking Machine Rechargeable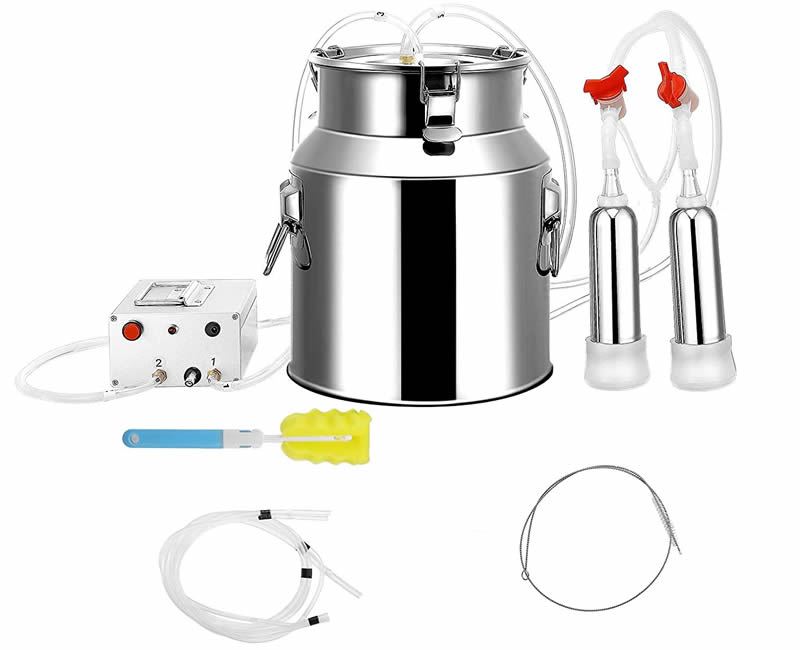 This milking machine for cows is rechargeable and available in two versions: 7 and 14 l capacity.
With a durable, nontoxic barrel, this machine has a bottle made of stainless steel, a pump fabricated from plastic, and a tube of silicon and PU. With a pump power of 24 W and a pulsation cycle of 46 times per minute, this milking machine can run for almost 5 to 7 hours.
The foldable design makes it very easy to carry while the automatic check valve stops it when the barrel is 100% full.
It comes with special brushes that will help you clean it easily and fast.
Cons:
It is not suitable for smaller cattle breed
Related videos:
---
6.

Wadoy Cow Goat Milking Machine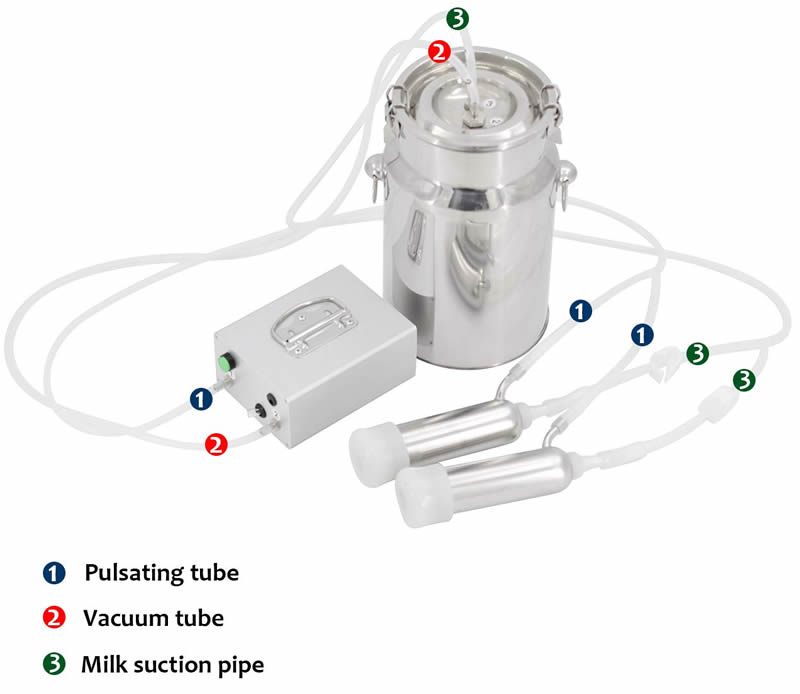 This next cow milking machine from Wadoy is made of stainless steel 304. It is BPA-free and has a capacity of only 7l, which is enough for one cow.
It has a simple design that makes it extremely easy to use and install. The installation of this milking machine for cows takes about 1 minute.
It comes with an extra replacement teat cup liner, extra replacement hose, and cleaning brushes and sponge.
Pros:
It has a good suction rate
Very easy to install
Cons:
The cleaning instructions are not helpful
---
5.

Happybuy Electric Milking Machine for Cows 25L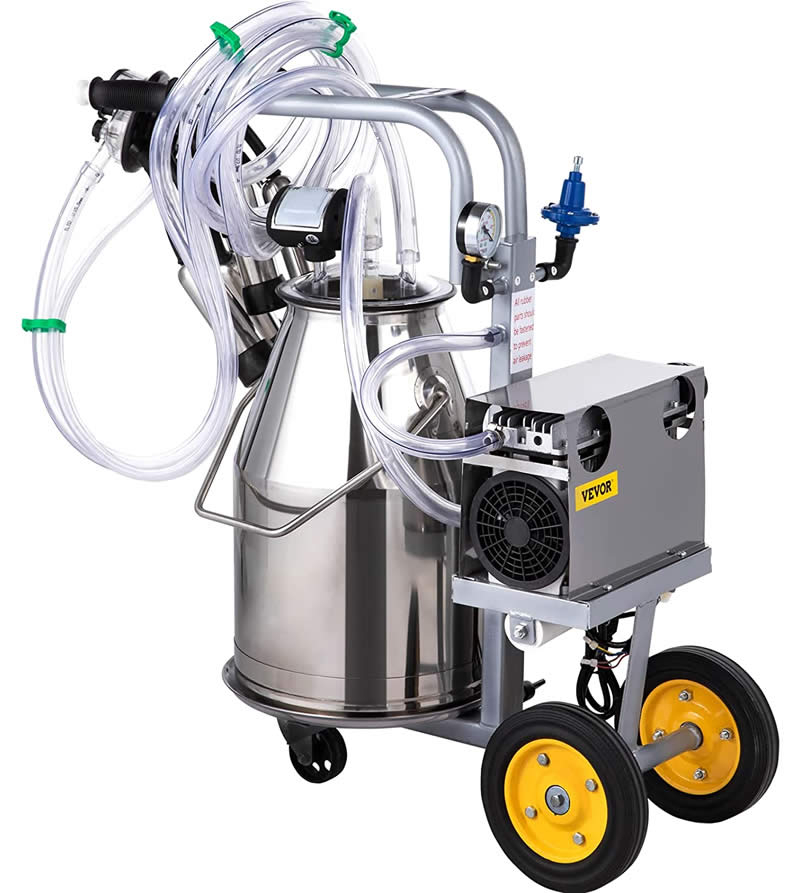 The use of this electric milking machine will considerably reduce the work on a farm. With a capacity of 25 L, it is easy to use and handle despite its larger size.
It is made of stainless steel, which will ensure that the milk is always fresh and hygienic.
It is equipped with a 1680 RPM motor and is capable of 60 pulses per minute. This machine promises to milk about 5-8 cows per hour, so it is practical, saves time, and last but not least, reduces physical effort.
Pros:
It works well
Cons:
It is difficult to clean
It does not come with instructions
---
4.

VEVOR Milking Machine for Cows 25L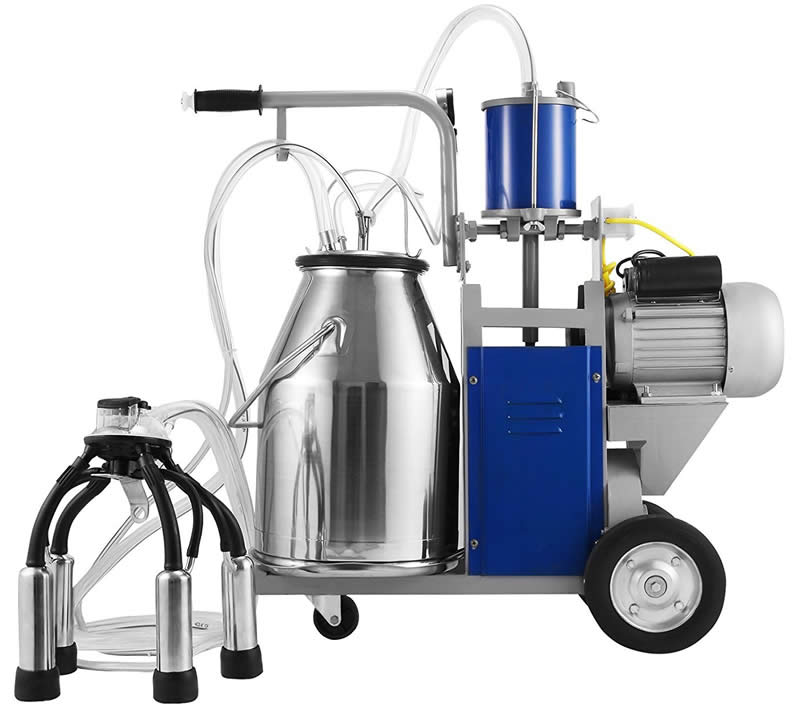 With a simple design that makes it easy to use, this Vevor milking machine for cows features a timer that will intervene in the control of the pump so that the animal does not have the slightest discomfort.
Its 0.55 KW and 1400 RMP motor offer 64 pulses per minute.
The tank has a capacity of 25 L, while the large wheels make it easy to transport and move around.
Pros:
It works as it says
It is very easy to move it around
Cons:
Lack of instructions
---
3.

Popsport Electric Milking Machine for Cows 25L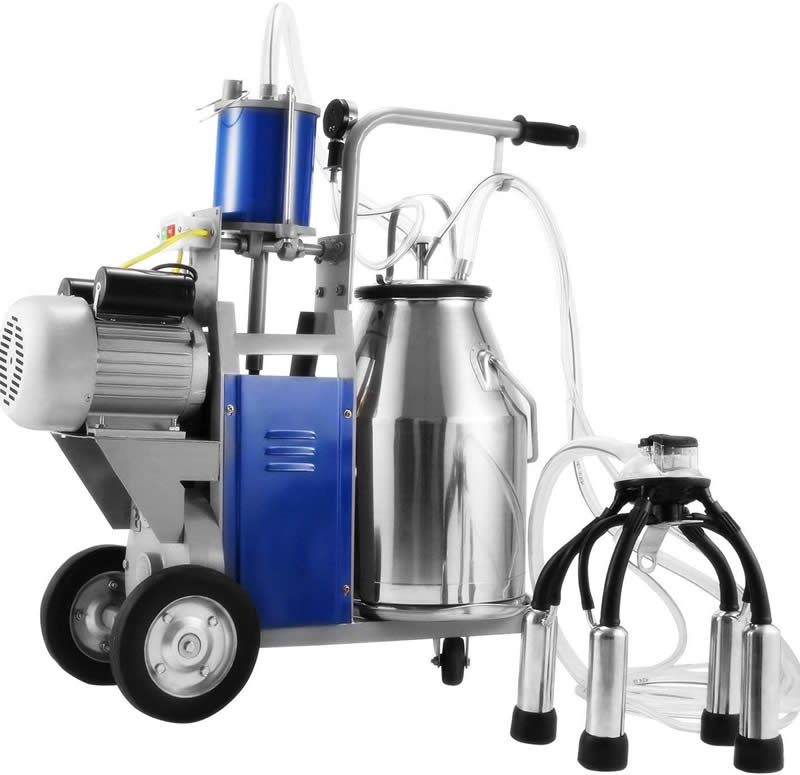 If you are looking for a cow milking machine with a higher working capacity, then you can take a look at this Popsport milking machine. With a capacity of 25 l and a motor of 0.55 kW and 1440 RPM, it is able to milk up to 12 cows per hour. Made of stainless steel, it has 4 milkers and large wheels to be easily moved from one animal to another. Also, to make the maintenance process easier, this machine boasts a piston pump.
Pros:
The price-quality ratio is good
It is very easy to move it around
Cons:
Hard to assemble due to lack of instructions
The pressure release valve location is not the best one
It works only on the cement walkway. It is difficult to be operated on rocky terrain.
---
2.

TECHTONGDA 50L Electric Milking Machine for Cows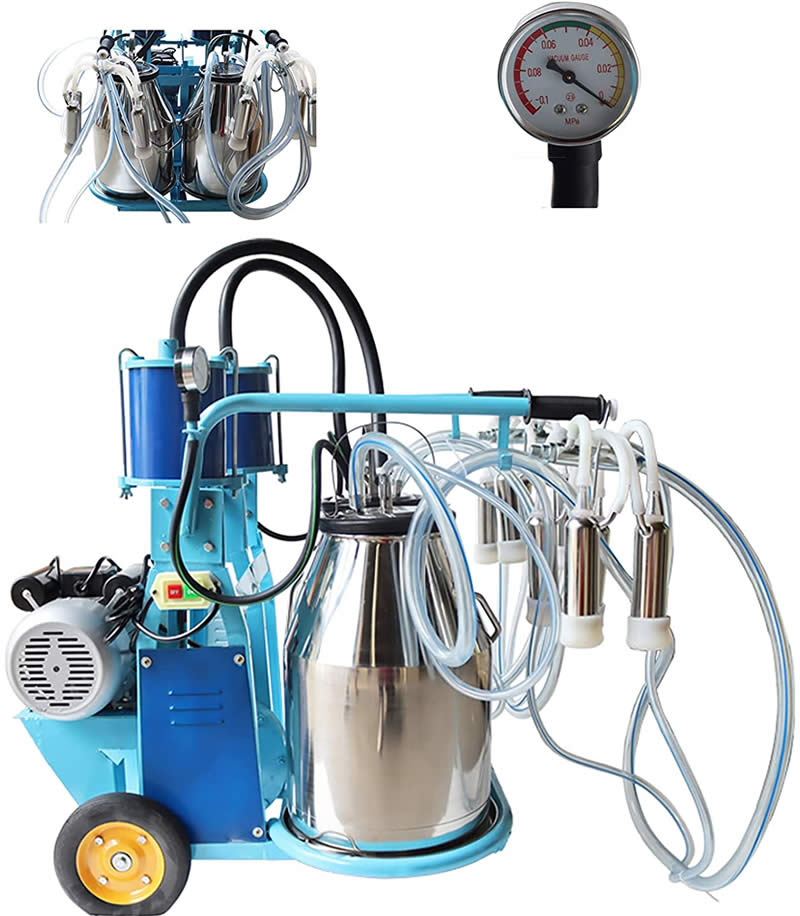 Not very noisy and with large wheels to move it easily, this milking machine for cows is made of 304 stainless steel, a material that helps in the hygienic storage of milk. It can milk up to 24 cows in an hour because it is equipped with a copper motor with 1440 RPM.
To check if the animal's teats are fine, this milking machine has some transparent tubes that will allow you to monitor the condition of the nipples.

---
1.

INTBUYING Electric Double Barrel Piston Milking Machine for Cows 50 L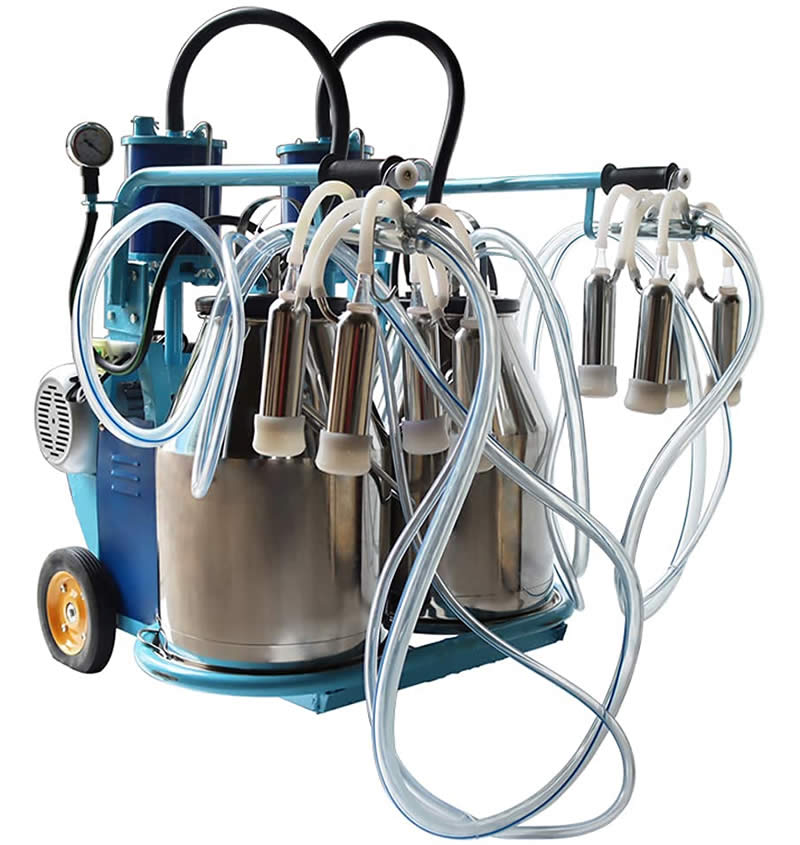 Made of 304 stainless steel, this milking machine is great for those who want one with a larger capacity. It comes with two barrels of 25 l each, offering a total capacity of 50 l. In the middle of each barrel, there is a non-return three-way valve that will help keep the milk fresh.
It is not a noisy machine, so animals will not be calm during its use. Moreover, being capable of 1440 RPM and 64 pulsations per minute, you can milk approximately 24 cows in an hour with this machine. It is a good choice for a farmer with a small or medium farm.

---
Milking machines for cows are essential for any dairy farm. By using them you can reduce physical effort while improving the milking yields, reducing labor costs, and providing a safer milking experience for your livestock.
Please let us know in the comments if you are using this type of machine. Do you prefer a specific one?