Raising sheep is an important agricultural activity. Practiced by humans for hundreds of years, it helps produce food and textiles. But sheep farming also includes taking proper care of them, and for that, you need sheep shears.
Sheep shears are tools you can use to cut sheep's wool. These tools can be found in different sizes, shapes, and power, but all are equipped with sharp blades that trim the sheep's wool.
Shearing sheep is an essential process in keeping the sheep in good condition and comfortable. This process removes dirt and debris from the fleece, helps maintain the health of the sheep, and prevents diseases. Shearing sheep is not only necessary for their health and comfort, but it can also provide valuable wool fibers which can be turned into products like blankets or clothing.
Grooming Tips
The shearing process can be stressful for the animal. That's why it is essential to make sure that you take special care to keep the sheep calm and comfortable at all times. Here are some shearing sheep tips that will help you during the shearing process:
Take your time before starting to shear the sheep. First, make sure the sheep are comfortable with your presence, and then slowly give them time to get used to it. It is better to start with a lower speed and increase it over time.
The sheep must be comfortable but also secure when shearing the wool. If the animal gives signs of too much stress, it is better to stop, take a break, and then continue a couple of moments later.
Make sure you use the right shears. The shears must be in great condition to be used. If the shears are damaged or have low quality, then the animal could suffer pain and discomfort.
You do not have to do all this alone. Sometimes, it is better to have another person to help you, but also to calm the sheep.
You can be sure that keeping the animal calm while shearing will make it an even a safer and better experience for you.
Related videos:
How to Use a Sheep Shear
For this to be an enjoyable, not too stressful situation for the animal, you should start by checking the blade's condition and make sure they are sharp and lubricated with sheep shear oil. Also, you should make sure that the shear you have is the proper one for sheep. If not, then the sheep can suffer enormously due to burns caused by overheating of the device or pain from the wool pulled due to unmaintained or damaged blades.
When you start to shear the sheep, make sure you have control over the sheep shears and then press firmly on the sheep's wool. In order to avoid pulling the sheep's fur, it is good to try to maintain constant pressure on the sheep shears. Do not press too hard because you can cause pain to the animal! After this, move the shears in a quick, downward motion. In general, it is recommended to start on the sheep's backside and work down toward the legs.
As you progress in this process, adjust the angle of the shears so that you cut the wool as evenly as possible.
If the blade gets stuck in the sheep's wool, turn off immediately the device! This is a sign that the shears need to be cleaned and lubricated again. The lubricating oil keeps the device cool and helps to provide a smooth and comfortable trimming experience for the sheep.
After you are done, you can double-check and rectify the missed sections by going back and correcting them.
Related videos – How to Use a Sheep Shear:
---
Top 7 Recommended Sheep Shears on Amazon
Sheep Shears Electric – 380W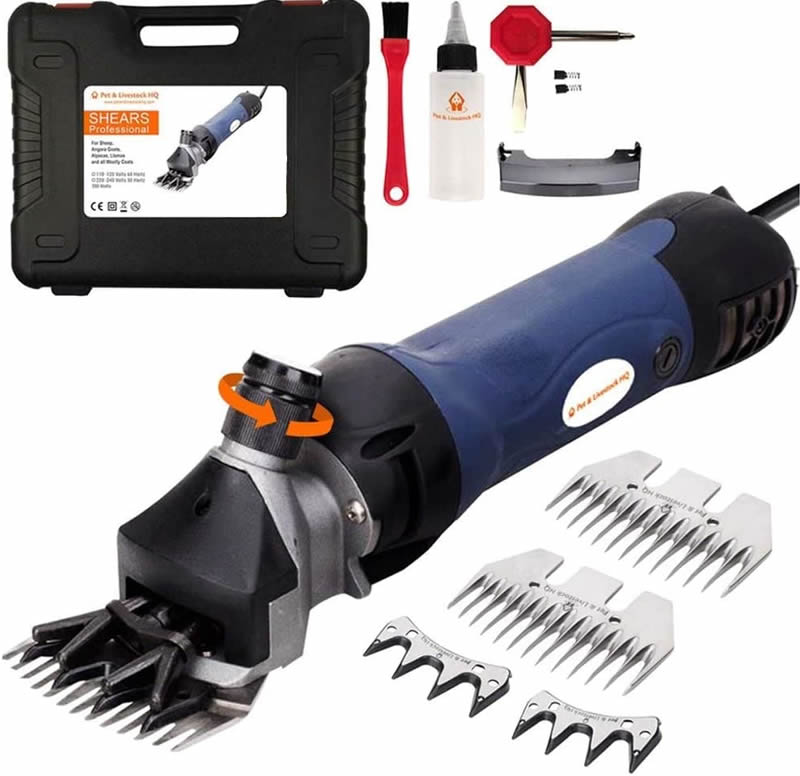 The first choice on our list is a sheep shear with a heavy-duty cooper motor capable of a power of 380 W and 2500 RPM and with a long 18.3-foot (5.5 m) cord. This product comes equipped with an efficient cooling system featuring an aluminum head and airflow vents that prevent overheating of the device, making work much more pleasant and efficient because you don't have to stop the sheep shears every time it overheats.
It perfectly cuts the thick sheep wool, making this process easier for both the farmer and the animal. The polymer body built of the device will absorb all vibrations, while the steel blades will provide stability and durability. This model has 13 main knives and 4 secondary knives, all of high quality which will ensure that the animal will not be injured or burned during the shearing process.
This product also includes a carrying case for traveling, 2 blades, and 2 quick-change, carbon brushes.
Related video – Sheep Shears Electric – 380W
---
Sheep Shears Pro 110V – 500W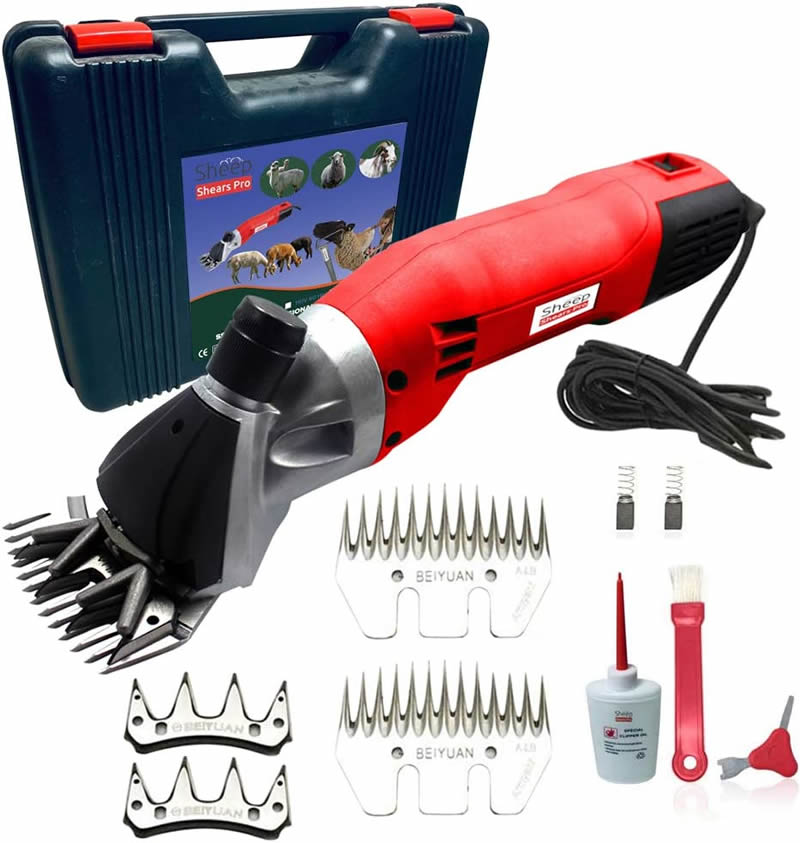 This electric sheep shear comes directly in a carrying case that makes it easy to transport and store together all its elements together. The motor of this product has a power of 500 W, 2400 RPM, and 6 control speeds, ensuring a smooth and professional shearing process.
Having an 18.3-foot (5.5 m) long power cord, this sheep shear is made of the most durable materials and incorporates a new technology that includes airflow vents that will not let the motor overheat during the shearing process. In this way, the animal will be protected from burns, and you will finish the job much faster.
The blade has 13 teeth and a rotatable button for easier sheep shearing. Other things that this farming tool includes are a cleaning brush, lubricating oil, an extra set of carbon brushes, and an extra blade.
Related video – Sheep Shears Pro 110V – 500W
---
Dragro 2022 Upgraded Sheep Shears – 500W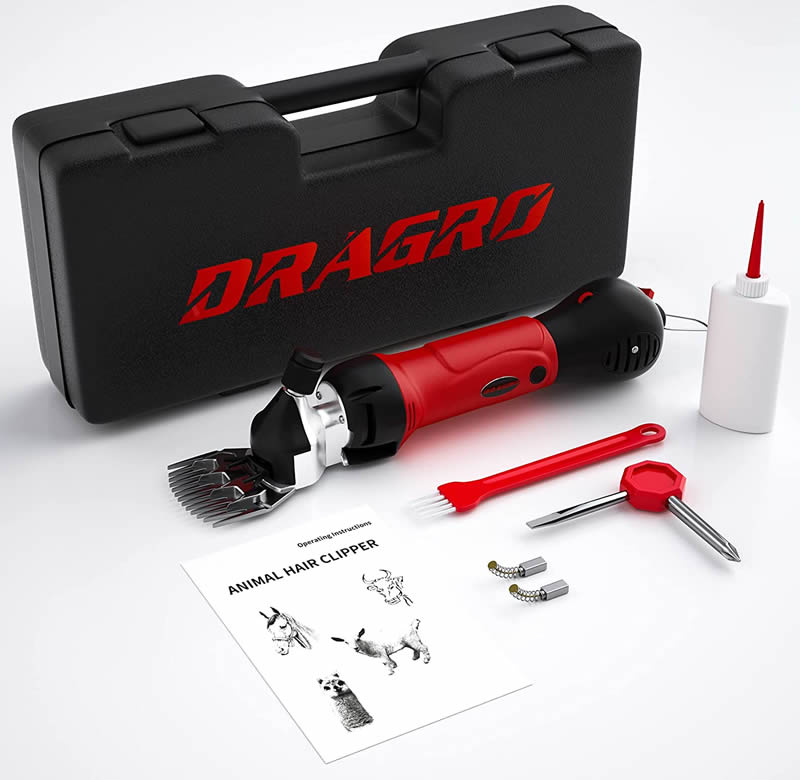 Weighing only 2.89 lbs (1.3 kg), this Dragro sheep shear is a suitable tool for shearing sheep on your farm. It has a 110 V, 500 W, 2400 RPM motor, and a 16 ft (4.87 m) long power frame. The ventilation filter is there to offer the model a longer lifespan, while the detachable blade will ensure flexibility and better adjustment to different wool types.
What is also great about this product is the fact that it has 6 control speeds. The 1 to 3 speeds represent the low speeds for the more sensitive areas, and the rest of the speeds until 6 are the higher speeds that allow you to speed up the process.
Related video – Dragro 2022 Upgraded Sheep Shears
---
BEETRO Electric Professional Sheep Shears – 500W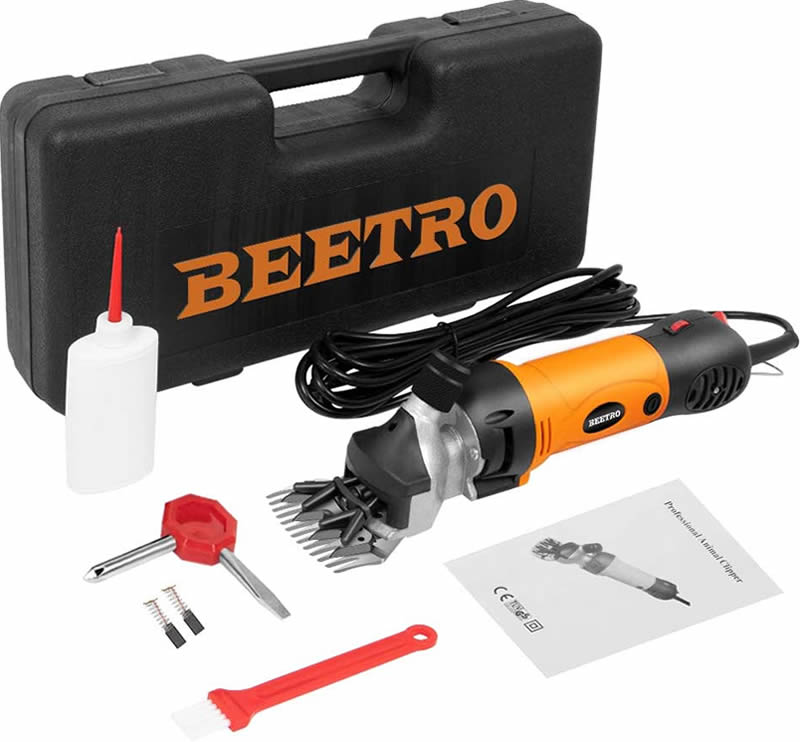 Another great tool for sheep shearing is the Beetro electric sheep shear. This model of sheep shear features a powerful 500W motor with 2400 RPM, ensuring enough power for shearing the sheep's wool. Its six adjustable speeds will allow you to have control over the power while shearing sheep. You can choose a low speed for maximum precision, but also the highest speed in case you want to be very fast.
The blades of this sheep shear have 13-teeth blades and are made using high-quality steel, offering you durability and a long-lasting product. It also has an adjustable blade gap and a quick-release feature that makes it easy to switch between different sheep shearing blades.
The product includes a carrying case, a cleaning brush that can quickly remove any excess wool from the blades, a power cable, a special screwdriver, and a bottle of lubricating oil.
---
Yaheeda 110V Electric Sheep Shears – 550W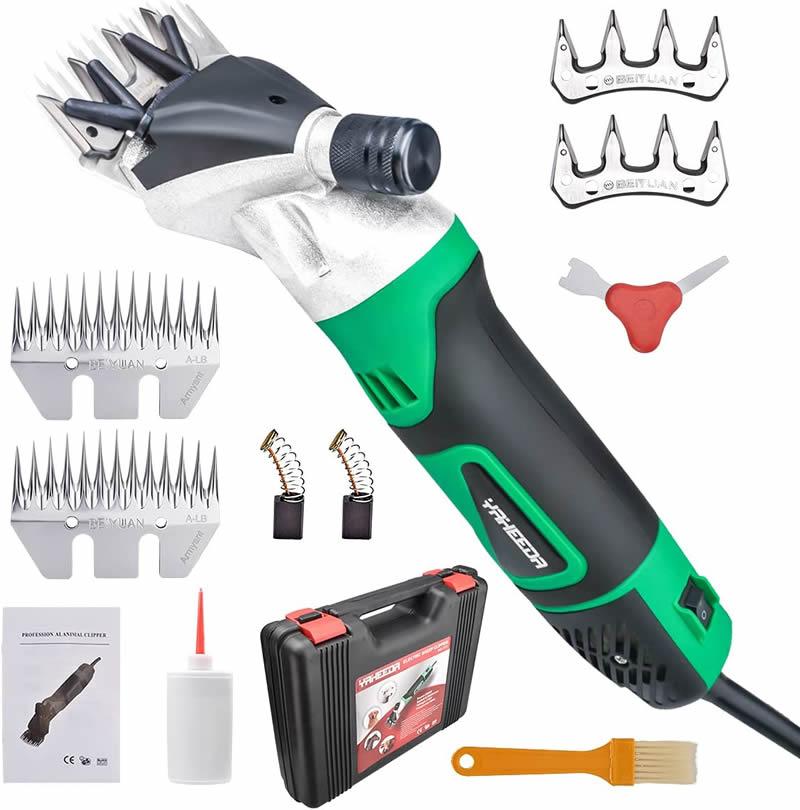 The Yaheeda 110V model is designed to quickly remove wool from several sheep. Created using only high-quality and corrosion-resistant materials, this sheep shear has 6 control speeds and a 550W heavy-duty full copper motor capable of 2600 RPM. The product has a weight of 4.08 lbs (1.85 kg) and a power cord with a length of 16.4 ft (5 m). When it comes to blades, the product comes equipped with 3 pairs of 76 mm 13-teeth that will make it easy to shear all the sheep's fleece. The blade can be reusable if it is properly cleaned after every use.
With this sheep shear, you don't have to worry about engine overheating. It boasts air holes in the design that helps protect the motor from overheating.
The carrying case of this model includes a cleaning brush, a special screwdriver, and an operation manual.

---
Cgoldelnwall 850W Sheep Shears – 850W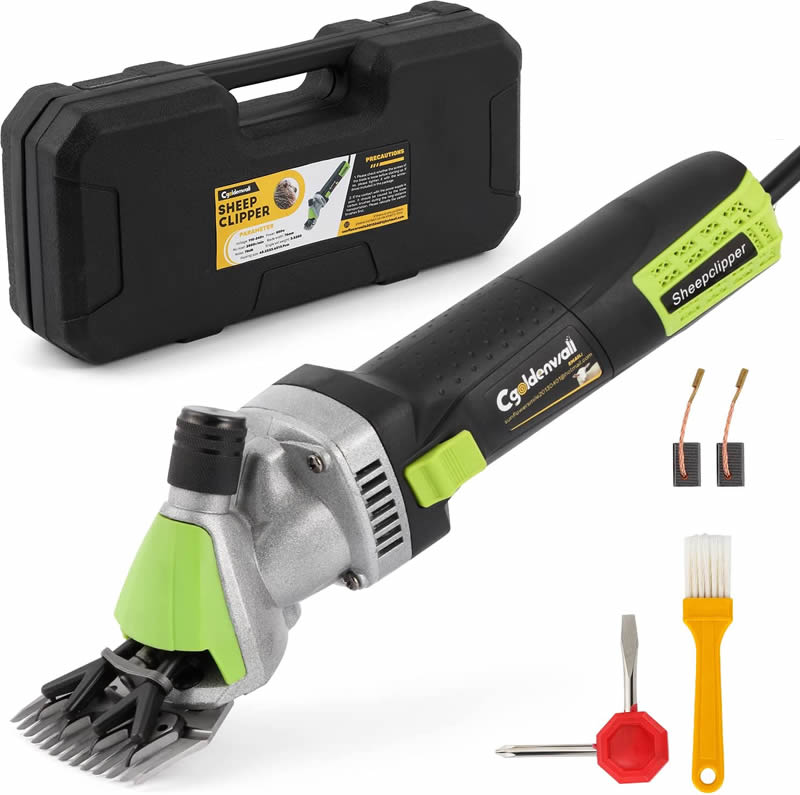 The Cgoldenwall sheep shears can be also an ideal choice for those looking to shear sheep with ease and convenience. This heavy-duty electric device is designed with an 850W motor and 2400 RPM speed, which ensures a reliable performance. The six adjustable speeds allow you to customize your shearing experience according to your needs, while the 13-straight-teeth blade with adjustable tightness will remove any thick wool in a quick time.
The design with cooling vents will allow you to shear a lot of sheep because they will keep the engine at an optimal temperature. Moreover, the animal will not be in danger of feeling pain or burns.

---
SHengwin Electric Sheep Shears- 1000W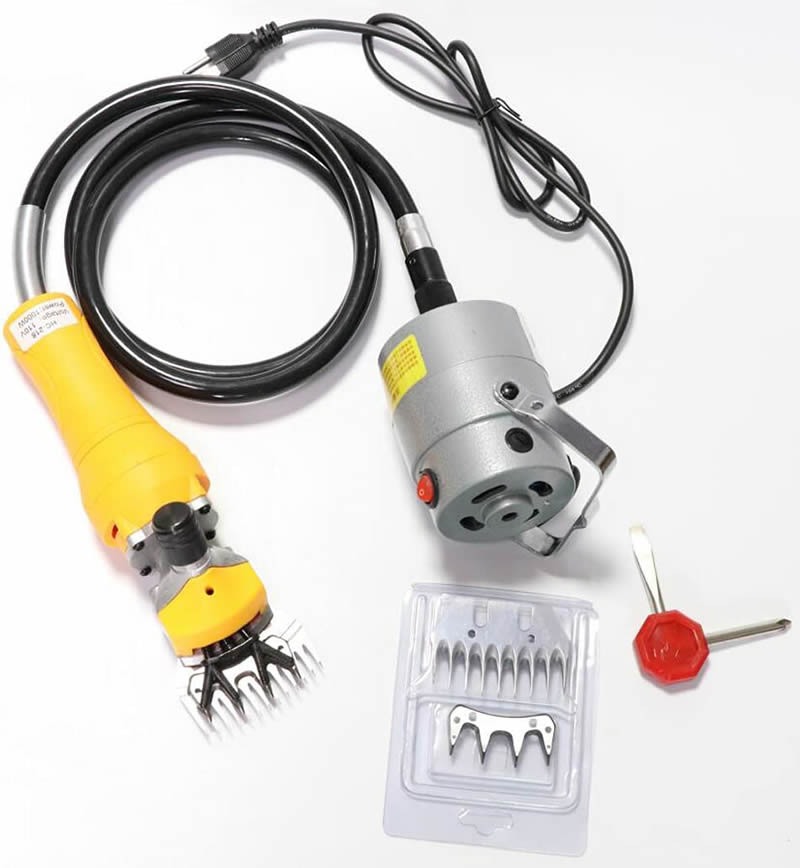 The Shengwin electric sheep shears include a blade with 9 teeth and another one with 13 teeth for shearing sheep. Its motor has a power of 110 V, 1000W, and 2800 RPM that allows an ultra-fine and comfortable cutting experience for both you and the sheep. The whole tool has a suitable design so that the engine does not overheat but maintains a normal temperature.
The power cable of this product is 6.5 ft (2 mm) long, allowing you to move freely, while the one-button power switch allows you to use it with ease. With their durable design and easy maintenance, the Shengwin sheep shears are an ideal choice for sheep farmers and sheep owners alike.

---
Conclusion
Sheep shears are an essential tool in each farm where sheep are raised. They provide a safe and efficient way to trim a sheep's wool.
By following tips for sheep shearing – starting from the backside of the sheep, using sharp blades, taking your time, and properly lubricating the sheep clippers, you can help ensure that sheep are kept healthy while making sure their valuable wool fibers are not wasted.
If you use or have other recommendations for sheep shears, please write to us in the comments section.