It is time to share with you all about the biggest Kioti tractor on the market.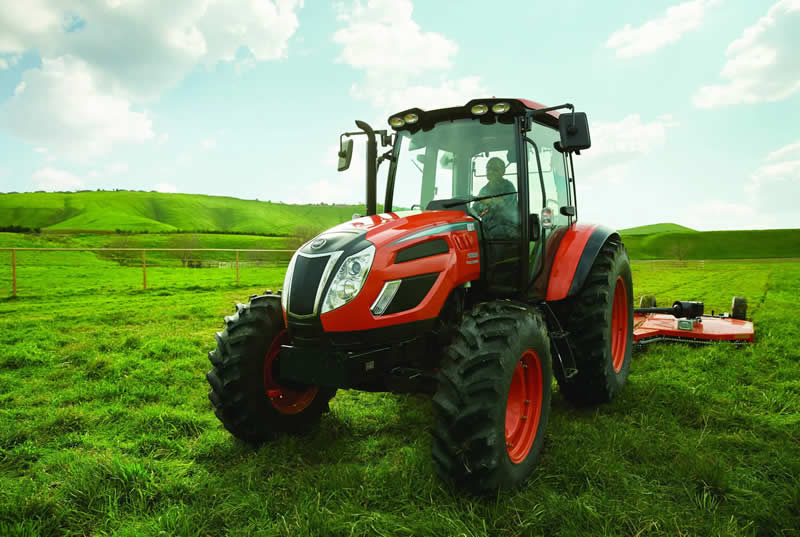 Loaded up with many advanced and operator- and climate-friendly options and capabilities, the Kioti PX tractor is ready to help you revolutionize your work.
Ready to read more about it?
Kioti PX Tractor
The biggest Kioti tractor comes in a complete series that includes not one, but three versions with different engine gross power. The PX9530PC, PX1053PC, and PX1153PC can develop up to 93, 103, and 110 horsepower.

Production
Kioti Tractor is the manufacturer of the PX series of tractors. Located in Wendell, North Carolina, USA, Kioti manufactures only compact and sub-compact tractors.
This company was founded in the USA in 1986 as a subsidiary of Daedong Industrial Company, Ltd.
Daedong is a South Korean company that produces several types of agricultural machines such as tractors, and combine harvesters since 1947.
Now Kioti Tractor is a division of Daedong-USA Inc, which sells tractors under the Kioti name.
Kioti tractors enjoy great recognition both in the USA and Canada. They perform great on the field and the farmers like them due to their versatile design. Kioti tractors are very easy to maintain and use by the operator.
Engine
The engine of the Kioti tractor is a Doosan 3.4L 4-cyl diesel engine. Hyundai Doosan Infracore manufactures this type of diesel engine. This company, like Daedong, is a South Korean company that also produces power generators, as well as, construction equipment.
The Dooesan 3.4L 4-cyl diesel engine features a displacement of 3.4 liters, 4 cylinders in line, and a TI (turbocharged inter-cooled) aspiration. Its final dry weight is 794 lbs.
This compact engine is very powerful, efficient, and very friendly to the environment. It can perform at its best with less fuel, managing to emit low levels of emissions.
PTO
The PTO type of this biggest Kioti tractor is independent, having its own power source and even working when the tractor engine is off. The PTO shaft is interchangeable, which makes the entire job of switching different attachments extremely easy. It is no longer necessary to work hard or to purchase multiple PTO shafts.
The rear RPM is 540, which is actually one of the most common speeds in the world of tractors. Finally, the auto PTO automatically shuts down when the 3-point is raised, while the rated PTO is between 79.1 and 92.2 horsepower.
Transmission
When it comes to transmission, the tractor comes with a synchronized power shuttle transmission. This type of transmission system perfectly synchronizes the speed of the transmission with that of the engine. This transmission works smoothly so that you will not feel anything inside the cabin.
Speed
This Kioti PX tractor is built with efficiency in mind. It has a maximum traveling speed of up to 24.87 mph. This awesome speed gives you the opportunity to cover large areas of land in a very short time.
Table 2. Kioti Tractor / PX series: Specs & Compare
TRACTOR
PX1053PC
PX1153PC
PX9530PC
ENGINE
Engine Model
DL03-LEA08
DL03-LEA07
DL03-LEA09
Engine Gross Power
103 hp (76.8 kW)
110 hp (82 kW)
93 hp (69.3 kW)
Rated Speed
2,200 rpm
No. of Cylinders
4
Fuel Type
Diesel
Displacement
208 cu. in. (3,409 cc)
Fuel Tank Capacity
34.3 gal. (130 L)
TRANSMISSION
Transmission Type
Synchronized
Shuttle
Power Shuttle
No. of Travel Speeds – Forward / Reverse
32F / 32R
Min. Travel Speed of Forward w/ Ag @ Engine rated speed
0.41 mph (0.66 km/h)
Max. Travel Speed of Forward w/ Ag @ Engine rated speed
24.87 mph (40.02 km/h)
Power Take-Off (PTO)
PTO Type Trans
Independent
PTO Power
86.6 hp (64.6 kW)
92.2 hp (68.8 kW)
79.1 hp (59 kW)
Rear PTO Speeds (Standard)
540/1,000 rpm
Brakes and Clutch
Brakes
Wet Disc Type
Clutch
Wet Multi Disc Clutch
Dimensions w/ AG Tire
Length w/ 3-point hitch
168.9 in. (4,290 mm)
Width
88.6 in. (2,250 mm)
Height from Top of Cab
109 in. (2,770 mm)
Wheelbase
93.3 in. (2,370 mm)
Ground Clearance
19.5 in. (495 mm)
Front Tread Ag Tires – Min
66.1 in. (1,680 mm)
Rear Tread Ag Tires – Min
70.5 in. (1,790 mm)
Hydraulics
Pump
Gear
Pump Capacity (Max. Flow Rate)
31.5 GPM (119.2 L/min)
3-Point Hitch
Standard Category
Category II
Lift Capacity, 24″ aft of hitch
8,002 lbs. (3,630 kg)
Control Type
Position, Draft, Mixed Control
Weight
Weight with Ag Tires
9,064 lbs. (4,111 kg)
8,976 lbs. (4,071 kg)
Exterior Features
Obtain optimal results with minimal effort – this is what all tractor operators want to hear. Well, this giant Kioti tractor offers this luxury.
On the exterior, this tractor has a lot of user-friendly features to achieve top results with less work.
Among them are the following:
rear working lamps
front work lights
side work lights
standard wipers
rear defrost
3-point hitch – this is located in the rear of the tractor. It has standard telescopic lower links and stabilizers and allows the connection of lots of 3-point attachments. The 3-point hitch is a category II one, so it can carry up to 8002 lbs.

large fuel tank

– the fuel tank is quite generous. With a capacity of 34.3 gallons, it allows the operator to work for extended periods without interruptions.
joystick valve – rear remote hydraulic valves – for easier handling of attachments, it features a joystick valve and rear remote hydraulic valves. There is also the option of a third remote hydraulic valve.
battery disconnect switch – this function disconnects the battery from the electrical system, cutting off all electrical power to the tractor and preventing battery drain. It is a useful tool that protects battery life.

Cab Features
This Kioti tractor not only flaunts impressive exterior features but also has outstanding and convenient controls inside the spacious operator's cab.
These are:
climate control system – it maintains an optimal temperature inside the cabin, which improves the operator's comfort and visibility while working.
Bluetooth – although it is not a feature that helps to complete the task, it helps enormously to maintain the spirit of the operator inside the cabin. In the end, who doesn't enjoy a bit of music?
adjustable steering wheel and instrument panel – the panel provides the operator with the necessary information. At a short glance, he knows about fuel level, engine speed, oil level, and more.
power shuttle lever – shifting between forward and reverse gears without using a clutch pedal? Count me in! This makes it a lot easier to quickly change the direction of travel.
joystick lever – the joystick is located very well so that you don't have to make any effort to use it

ergonomic workstation with a deluxe seat

– the fully adjustable suspension makes driving even on uneven terrain very pleasant. The swivel chair is also very comfortable.
main gear shift lever – the main gear can be accessed only by pressing a button, without using the clutch pedal. You can choose "hi" or "low" speed.
ergonomic levers
Final Thoughts
Although it is not even close to being the biggest tractor in the world, the Kioti PX is a tractor with a lot of innovative features and technology.
It is versatile, easy to use, and maintain. Having an efficient engine, it can be used successfully in large and small-scale operations.
Related video – The Biggest Kioti Tractor:
---
Images credit: timberstar.ca