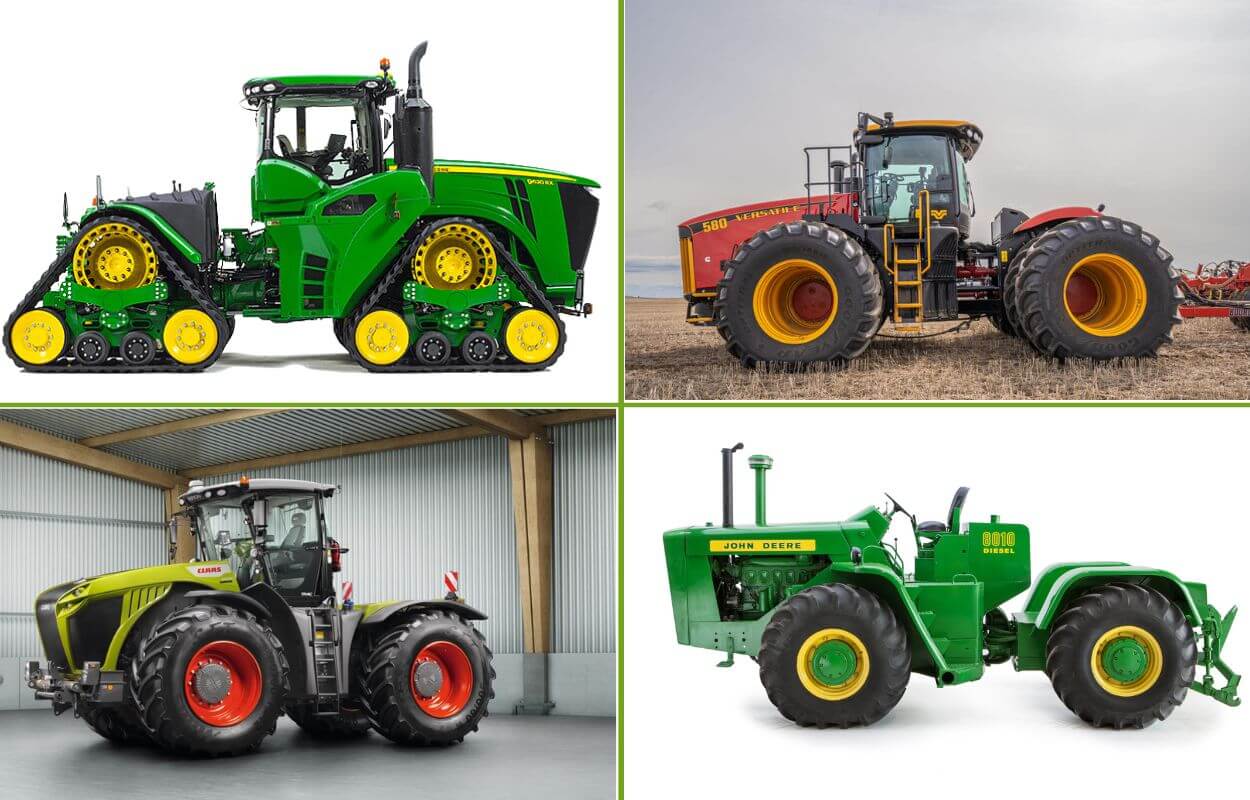 Articulated tractors have become essential tools in modern farming. These tractors are designed and built with advanced features and technologies that meet the needs of today's farmers.
They have revolutionized farming by improving operators' efficiency and offering greater versatility. Also, their reduced fuel consumption makes them more environmentally friendly.
While you may think that articulated tractors are a recent invention, they have actually been in development for over 70 years. Elmer Wagner was one of the pioneers who began exploring the concept of a 4WD articulated tractor model back in 1949.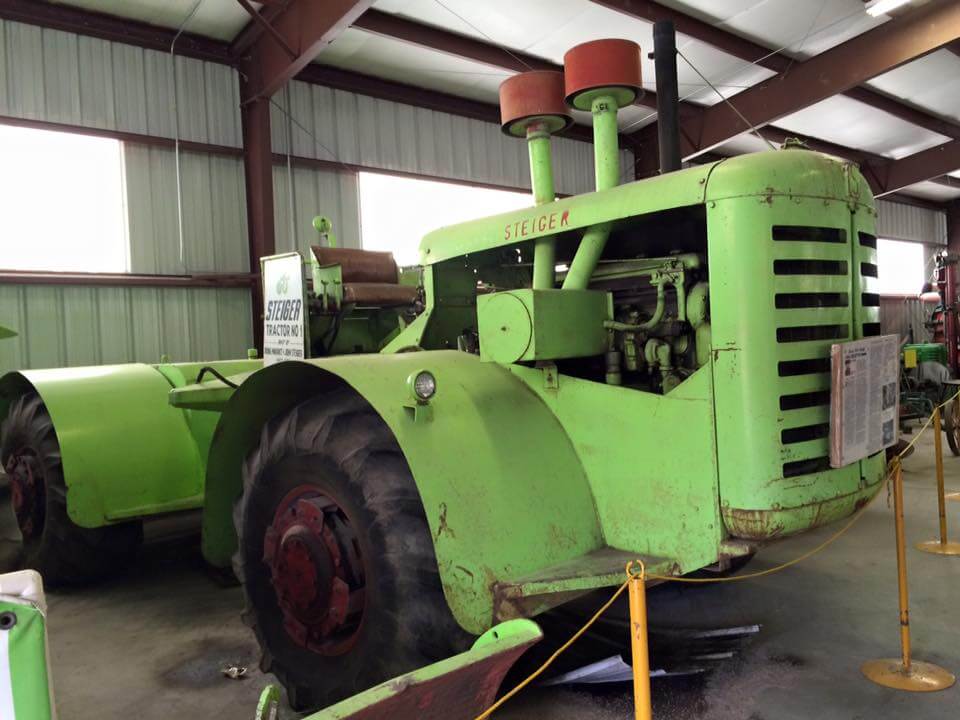 Modern articulated tractors are equipped with powerful engines that provide significant horsepower, enabling them to handle even the most demanding farming tasks.
They are capable of pulling heavy loads, operating various types of attachments such as plows, harrows, seeders, sprayers, and hay balers, and navigating challenging terrains.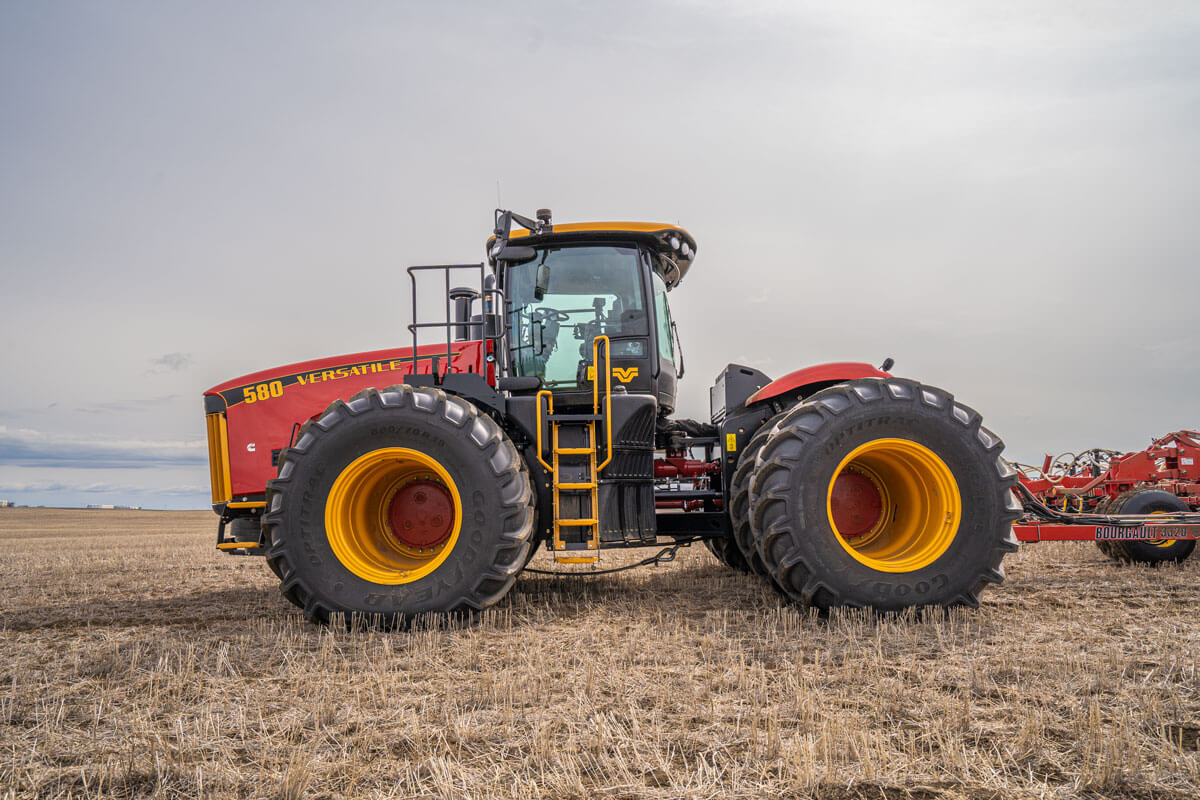 Articulated tractors are unquestionably valuable assets for farmers who want to increase productivity and precision in their day-to-day agricultural activities.
Since you know about my passion for tractors, today I'll be sharing valuable information about articulated tractors, including what they are, how they work, the first-ever articulated tractor made, and a list of successful models from established brands.
What is an articulated tractor?
An articulated tractor is a type of tractor that has a pivoting joint or articulation point in the middle that allows the tractor to articulate between the front and rear frames, providing increased performance and mobility.
It is also known as an articulated steering tractor or articulated four-wheel-drive tractor.
How does an articulated tractor work?
An articulated tractor works using an articulated joint, also known as a pivoting joint or articulation point, generally located in the middle of the tractor or between the tractor's cab and engine compartment, connecting the front and rear sections.
The tractor's hydraulic system is responsible for controlling and powering the articulation joint, enabling it to bend or articulate between the front and rear sections.
At the same time, the hydraulic system also operates the steering function. When the operator turns the steering wheel, hydraulic pressure is applied to the cylinders, enabling the front and rear sections to articulate accordingly.
How to drive an articulated tractor?
It is a mistake to think that if you have experience driving a traditional tractor, you will immediately know how to drive an articulated one the first time.
I myself drove an articulated tractor for the first time, borrowed from one of my friends, and I immediately recognized that it is completely different from the traditional compact tractor and requires a different driving approach. The driving techniques between these two types of tractors are truly distinct.
Driving an articulated tractor is not difficult, but it requires knowledge of some specific techniques due to its design and flexibility.
To drive an articulated tractor, you first need a training period. I always recommend that everybody take a short period of time to become familiar with the flexibility of the tractor.
Getting familiar with the controls, including the steering wheel, brakes, transmission, and accelerator, can make a significant difference in your performance as an operator.
Now, let's see how to actually drive an articulated tractor:
Gradually familiarize yourself with the steering technique. Remember that the articulated tractor has a pivot in the middle that allows it to bend.When steering, you need to anticipate how the tractor will articulate in advance. Therefore, you should always turn the wheel earlier and wider than you would with a traditional tractor, allowing the bent section to follow the front section of the tractor.
Avoid accelerating or decelerating suddenly, as this can lead to instability in the tractor. Drive at a controlled speed to ensure stability and control.
Be aware and mindful of the surrounding obstacles. Maintain a safe distance from structures, vehicles, and other objects.To be frank with you, articulated tractors are true beasts when it comes to size. You have to have a good understanding of spatial orientation and know how to turn it to avoid any collisions with surrounding objects.
Avoid abrupt braking or sudden stops. Hard braking can destabilize the tractor and cause it to swing. Plan your stops in advance and apply the brakes gently.
Overall, driving an articulated tractor is about controlling its power, understanding its spatial dynamics, and executing every move with precision and finesse.
Advantages and Disadvantages of Articulated Tractors
The articulated tractor offers advantages such as improved stability, but it also comes with the disadvantage of more complex maintenance.
Below in Table 1, you will find additional advantages and disadvantages of articulated tractors that you should be aware of.
Table 1. Advantages and Disadvantages of Articulated Tractors

| The advantages of the articulated tractor are: | The articulated tractor's disadvantages are: |
| --- | --- |
| Good mobility: An articulated tractor offers a tight turning circle, allowing you to navigate in tight or challenging spaces. | Higher initial cost: Articulated tractors are generally more expensive than regular tractors with rigid parts. The articulated design includes a complex component known as the articulation joint and a sophisticated hydraulic system. |
| Reduced soil compaction: Thanks to its articulation joint, the articulated tractor minimizes soil compaction during turnarounds in the field, helping to preserve soil health and fertility. | More challenging to maintain: The articulation joint and the hydraulic system responsible for its operation require regular maintenance to ensure optimal functionality. This also leads to more costs. |
| Excellent traction and stability: The articulated tractor typically has a low center of gravity, providing superior traction and stability. The tractor's better flotation reduces the risk of losing control or getting stuck in slippery or soft terrain such as loose soil, mud. | Limited visibility: An articulated tractor offers the operator more limited visibility from the cab compared to traditional rigid tractors, which can cause discomfort for the operator. |
| Various attachment options: You can attach a variety of implements to an articulated tractor to complete tasks such as plowing, tilling, harvesting, and hauling. | Reduced steering control under heavy load: An articulated tractor could have difficulties maintaining accurate steering when dealing with heavy loads. |
| Dual and triple tire installations: The articulated tractors can be equipped with two or three tires on each side of the tractor's axle. Instead of a single tire on each side, additional tires are added to increase the load-bearing capacity without compromising the tractor's stability. | |
| Diverse availability: Articulated tractors are available in tracked variants, which increase their performance and traction on challenging terrain. | |
John Deere Articulated Tractors
The history of John Deere articulating tractors started in 1960 when they introduced their first tractor of this type.
The first articulated John Deere tractor was the John Deere 8010, which had a Detroit Diesel 7.0L 6-cylinder diesel engine, pneumatic drum brakes, an open operator station, and a 9-speed gear transmission.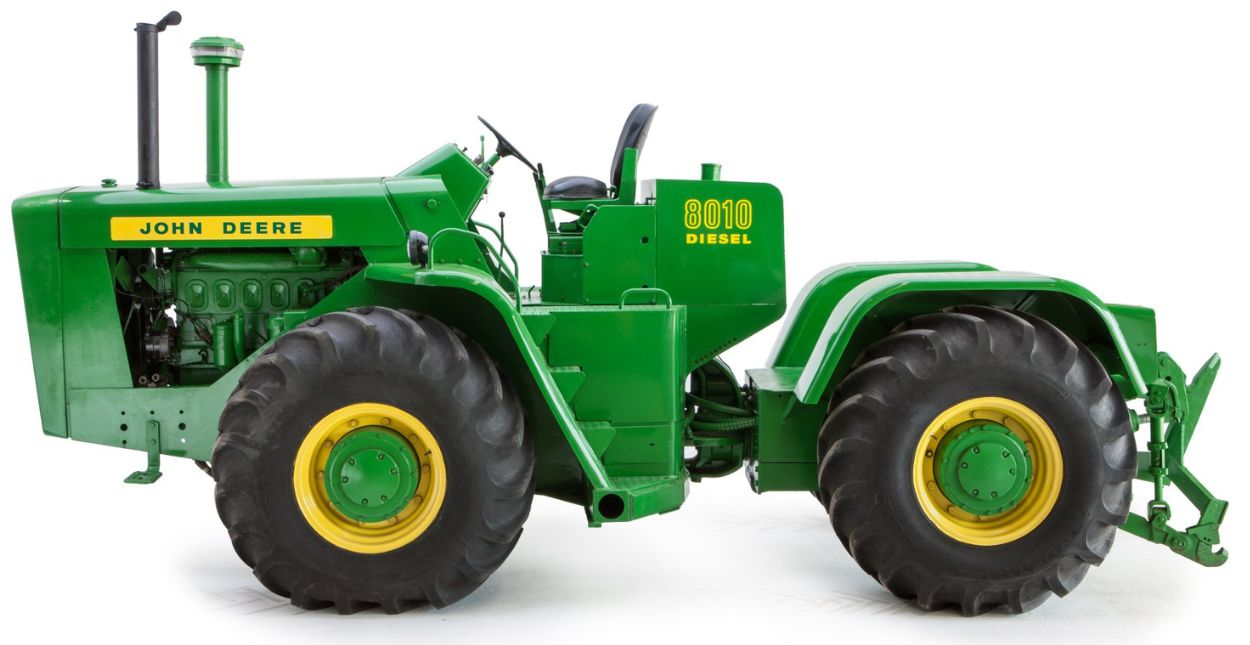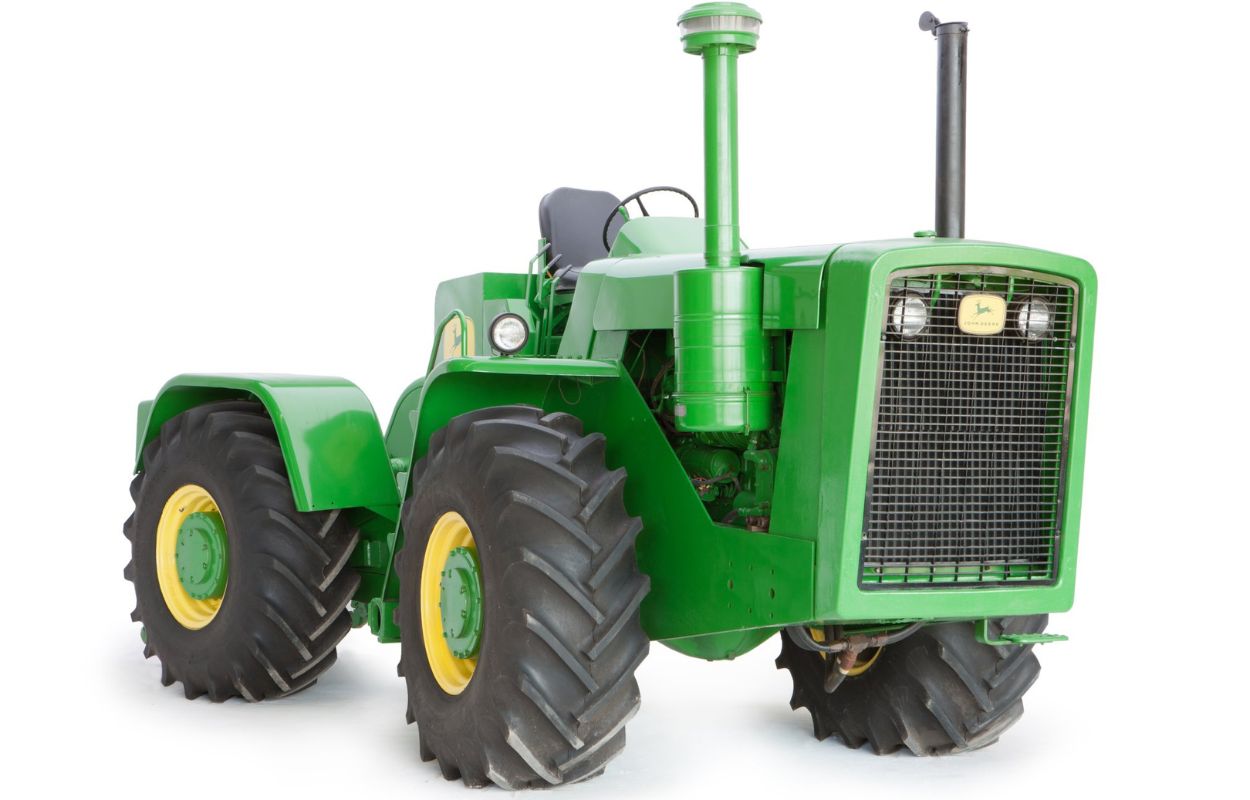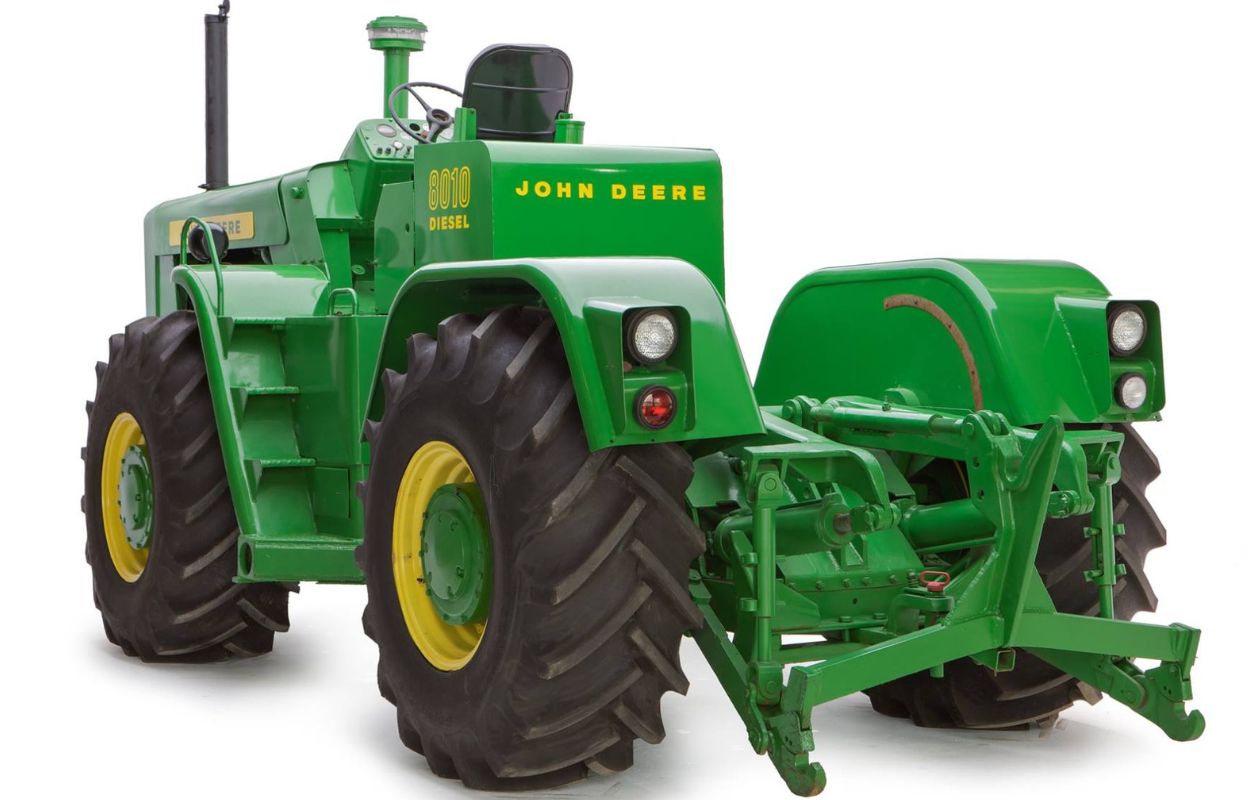 This articulated tractor later became the 8020 series in 1966, which included other John Deere articulated tractor models like the 8020, 8520, and 8640.
Related video JD 8640:
John Deere continued to expand and develop its product line, launching new models that quickly gained popularity among farmers.
In 1971, the company introduced the John Deere 7020 articulated tractor, which was a four-wheel drive (4WD) tractor equipped with a John Deere 6.6L 6-cylinder diesel engine. It offered a choice between a partially synchronized transmission with 8 forward and 2 reverse gears or a partially synchronized transmission with 16 forward and 4 reverse gears.
Another model is the John Deere 8430 articulated tractor from 1975, which featured a John Deere 7.6L 6-cylinder diesel engine capable of developing up to 175 horsepower. In the same year, the John Deere 8630 four-wheel drive articulated dual-wheel tractor, with a maximum horsepower of 275 and a standard Sound-Gard cab, was also launched.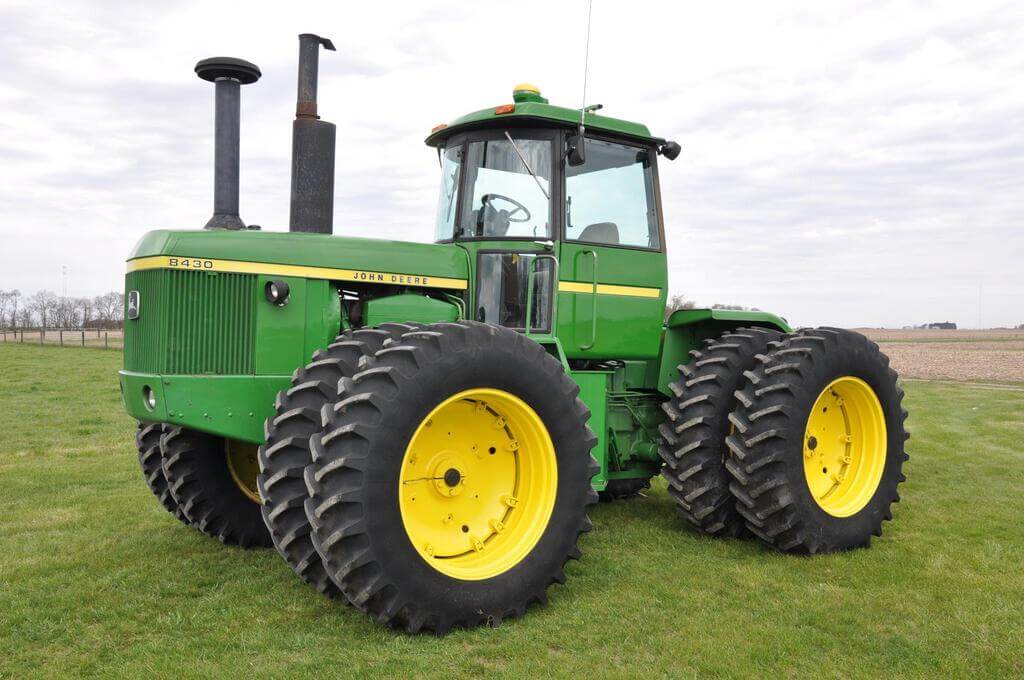 Fast forward to 2002, the John Deere 9420 articulated tractor was introduced, which featured a Command View cab as standard, complete with air conditioning. The tractor was equipped with either a 24-speed partial power shift or an 18-speed full power shift transmission, along with hydrostatic articulated steering.
Related video John Deere 9420:
As for the present, John Deere maintains its production of articulated tractors. The new John Deere articulating tractor is 9RX 640 – John Deere 9R 640, which is part of the 9 Series Tractors. The 9RX 640 – 9R 640 is the biggest and most powerful articulated tractor from John Deere and it comes in a tracked but also wheeled version.
Related video JD 9RX 640:
Table 2. Articulated Tractors from John Deere

| JD Articulated Tractor Model | Year |
| --- | --- |
| John Deere 8010 | 1960 |
| John Deere 8020 | 1961 – 1964 |
| John Deere WA-14, WA-17 | 1968 – 1970 |
| John Deere 7020 | 1971 – 1975 |
| John Deere 7520 | 1972 – 1975 |
| John Deere 8430 | 1975 – 1978 |
| John Deere 8630 | 1975 – 1978 |
| John Deere 8440 | 1979 – 1982 |
| John Deere 8640 | 1979 – 1982 |
| John Deere 8450 | 1982 – 1988 |
| John Deere 8650 | 1982 – 1988 |
| John Deere 8850 | 1982 – 1988 |
| John Deere 8760 | 1989 – 1993 |
| John Deere 8960 | 1989 – 1993 |
| John Deere 8570 | 1993 – 1996 |
| John Deere 8770 | 1993 – 1996 |
| John Deere 8870 | 1993 – 1996 |
| John Deere 8970 | 1993 – 1996 |
| John Deere 9520 | 2002 – 2007 |
| John Deere 9570RX | 2016 – 2021 |
| John Deere 9620RX | 2016 – 2021 |
| John Deere 9RX 490 | 2021 – |
| John Deere 9RX 540 | 2021 – |
| John Deere 9RX 590 | 2021 – |
| John Deere 9RX 640 | 2021 – |
Big Bud Articulated tractors
Northern Manufacturing is the company that builds the Big Bud tractors. The company was owned by Ron Harmon and manufactured tractors in Havre, Montana.
In the 1970s, when articulated tractors started gaining popularity in the North American farm market, Northern Manufacturing received a tractor order from the Rossi Brothers.
The Rossi Brothers, a major player in the cotton-farming industry based in Bakersfield, California, had a specific requirement for a machine that could efficiently and promptly deep-rip one-third of their acreage every year.
The result of the Rossi Brothers' order was the Big Bud 747, which is also still recognized as the biggest articulated tractor in the world.
The Big Bud 747 is not the only articulated tractor produced by Northern Manufacturing. The Big Bud 950/50 articulated tractor is another model and, in fact, the first one ever built by the company.
Related video:
Case IH articulated tractors
With a rich history of building everything from the first steam engine tractor to all kinds of machinery, including articulated tractors, Case IH has established itself as a renowned company.
The first articulated tractor of this manufacturer was the Case IH 4494, which featured a Case 8.3L 6-cylinder diesel engine and a Silent Guardian cab as standard.
Another notable articulated tractor from the company is the Case IH 9110 from the 9100 Series. It was built with a 12-speed full power shift transmission, a Case 8.3L 6-cylinder diesel engine, and a hydrostatic power system for the steerable front axle and articulated chassis.
In the 9200 Series, the Case IH 9250 stands out with its capability of 300 horsepower and a lift capacity of 12,750 lbs. Case IH 7140 built in 1993 also worth a mention here as it was equipped with a CDC 8.3L 6-cylinder diesel engine capable of 195 horsepower, and it had an original price of $91,000.
Other articulated tractors include the Case IH STX530QT from the Steiger STX Series, as well as the Case IH Steiger 470 Rowtrac, which is part of the Steiger Rowtrac Series.
That's not all from Case IH, as the company has also designed and built a very big and powerful tractor. The Case IH Steiger 620 Quadtrac & Heavy Duty Wheeled is the largest articulated tractor from Case IH Steiger. This impressive tractor is capable of a maximum power of 682 horsepower and has a maximum lift capacity of 19,620 lbs.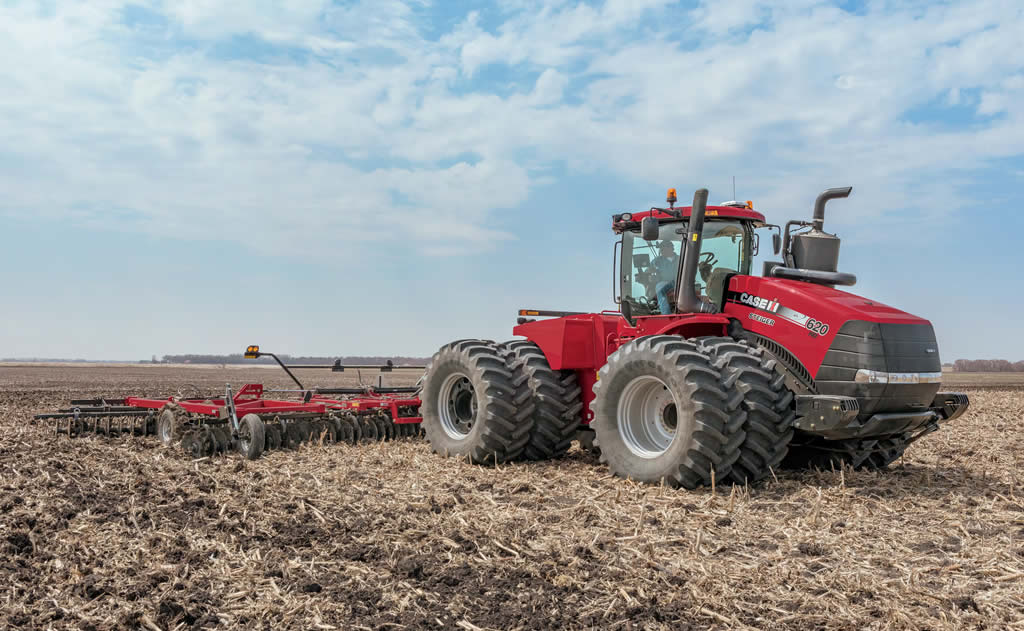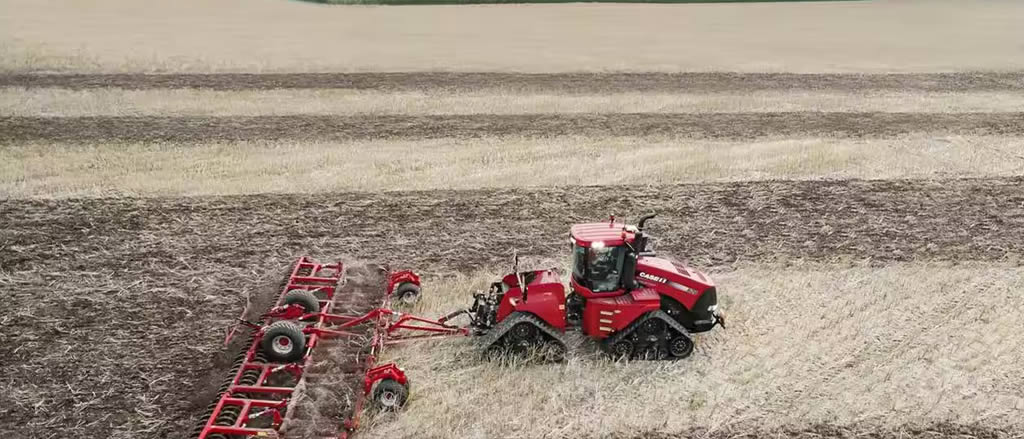 Versatile articulated tractor
Founded in 1963 by Peter Pakosh and Roy Robinson in Canada, Versatile was the first company to mass-produce articulated four-wheel drive tractors. The first Versatile articulated tractors were the Versatile D100 and G100, which were priced at less than CA$10,000.
In 1977, the company also built the world's first bi-directional tractor named the Versatile 150. This tractor was equipped with a Perkins 3.9L 4-cylinder diesel engine and a cab with air conditioning.
Other articulated Versatile tractors from the same company include the Versatile 555, which had a Cummins 9.1L 8-cylinder diesel engine, the Versatile 1150, capable of 470 horsepower with a Cummins 18.8L 6-cylinder engine; the Versatile 450, with 450 horsepower; and the Versatile 365, powered by the Cummins QSL9 engine.
In addition to these, the company also built other impressive tractors known as the Versatile Delta Track 620 and the Versatile 4WD 620, which are the largest articulated tractors from Versatile.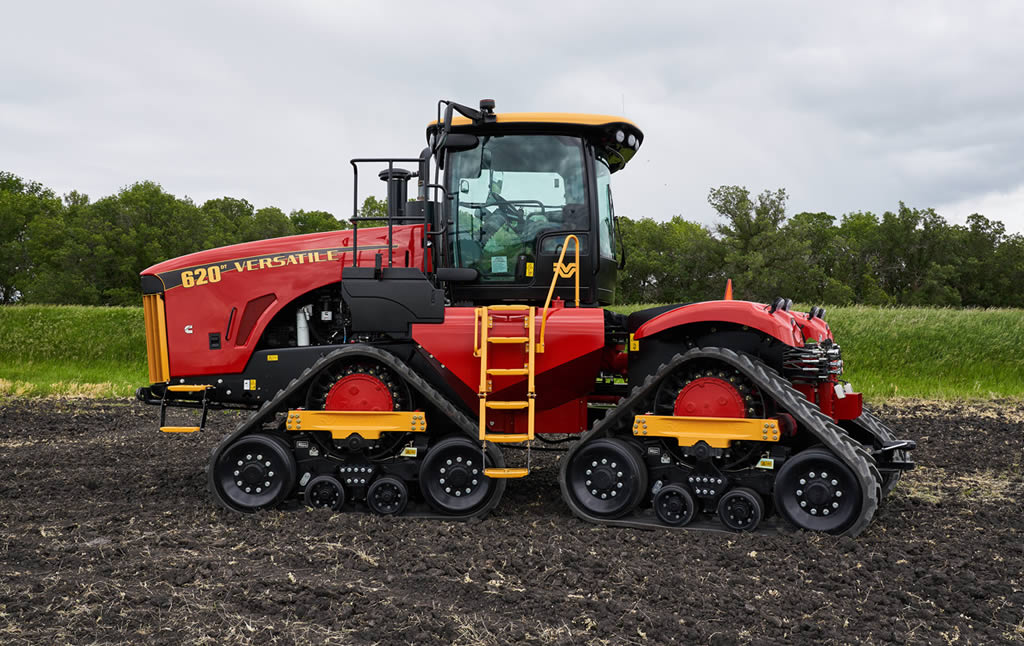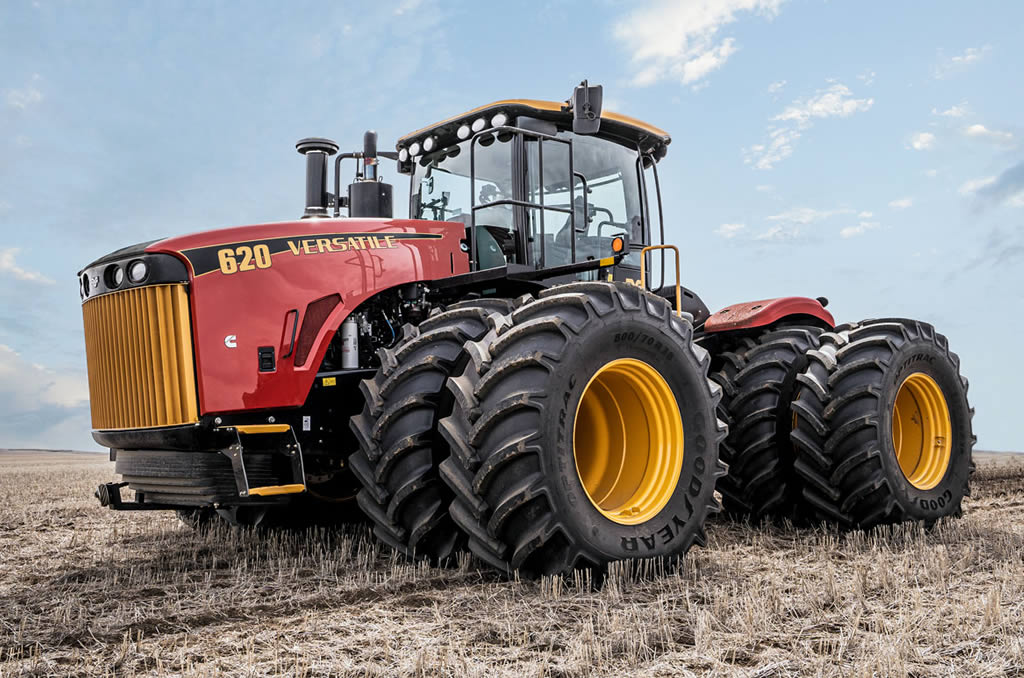 FAQ
Which was the first articulated tractor ever made?
The Steiger #1 is the first articulated tractor ever made. It was designed by Elmer Wagner, one of the seven Wagner brothers. Elmer Wagner began experimenting with 4WD articulating tractor designs in 1949.
The production of the Steiger #1 began in 1957, and it was priced at approximately $10,000.
Related video:
Can you plant with an articulated 4wd tractor?
Yes, you can plant with an articulated 4WD tractor. Articulated 4WD tractors provide great flexibility and traction, which comes in handy when navigating fields and performing planting operations. They can also be equipped with different attachments such as planters or seeders, which facilitate the planting process.
I myself have used an articulated 4WD tractor when planting beans. What I appreciate the most about it is the combination of its maneuverability and the ability to navigate and plant in areas that are challenging for other setups.